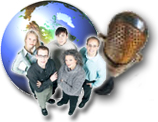 A HUGE WORLDWIDE BANK OF TALENT... featuring male, female & children's voices, in addition to character voices and many accents. Click here to sample our Demos.

ULTRAFAST TURNAROUND... via mp3 or .wav files - uploaded directly to your FTP site or email. Digital media by mail is also an option.

EXTREMELY COMPETITIVE RATES catered to meet your situational needs and offering retainer services as well.